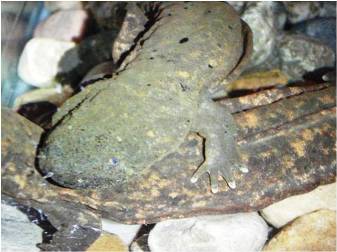 Hellbenders are the America's largest aquatic salamander and can reach over two feet in length. In New York, they are only found in the Allegheny and Susquehanna River river drainages. According to the New York State Department of Environmental Conservation, eastern hellbenders were listed as a species of special concern in the state in 1984.
One survey of the hellbenders in the Susquehanna River drainage found that all of the salamanders were over 25 years old, showing that no young had survived in that population for quite a while, according to NYS DEC.
Hellbenders raised at the Buffalo Zoo have been released into the wild starting in 2009. A recent issue of the NYS DEC Field Notes says that 146 juvenile hellbenders have been released into the Allegheny River, and recently, one of them has been recaptured, after having gained 40 grams.
The rest of the 400 hellbenders raised in the Buffalo Zoo program are scheduled to be released in 2013, the newsletter says.