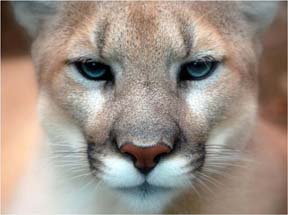 There is a small population of mountain lions in the Santa Monica Mountains, just northeast of Los Angeles. The problem is, an article in the LA Times says, the population is hemmed in by highways, agricultural fields and the ocean, and is too small to be self-sustaining. Wandering male mountain lions typically die in traffic before reaching the enclave, causing inbreeding.
The solution, say some area conservationists, is a highway overpass. Twice before, funding for a wildlife tunnel under the roadways was rejected. The overpass would cost a lot more. The next step is funding from a local conservation group for the California Department of Transportation to study the overpass option.
Read the article in the Los Angeles Times, here.
Photo: courtesy Missouri Department of Conservation