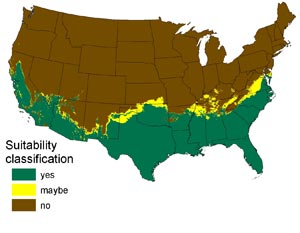 In 2008 the US Geological Survey published a report that said that the entire southern third of the United States could provide habitat for the invasive Burmese python that has been roiling the Florida Everglades ecoystem.
A recent paper in the journal Integrative Zoology says that occasional hard freezes and widespread winter temperatures that are too low for too many months of the year to allow the snakes to digest food will keep the snakes in the Everglades.
Interestingly, one of the authors of that paper is a python breeder. Another two are with USDA Wildlife Services. The lead author, a professor at a veterinary school testified before Congress in 2009 against listing constrictors as an injurious animal. (The fifth author is an expert in Burmese python digestion.)
Read the article in Integrative Zoology
A previous paper in PLoS ONE reached a similar conclusion, but for a different reason. This paper reasoned that there wasn't enough marshy habitat north of the Everglades for pythons to spread. One notable finding in that paper was that, given climate change, the rainforests of the Pacific Northwest might someday become warm enough to be suitable habitat for pythons.
The PLoS One paper is open access.
The question is, how big of a worry is pythons crawling their way out of the Everglades into the rest of the South compared to the worry pythons becoming established in some other warm, swampy place in the United States due to the release of unwanted pets?
I would say that pythons crawling north from the Everglades through Disney World to reach the Okefenokee Swamp is a minor concern. Having another area of the US become infested with released pythons is something worth keeping an eye on.
Map: From the original 2008 USGS report. Green shows areas of the continental United States with climate matching that of the pythons' native range in Asia.