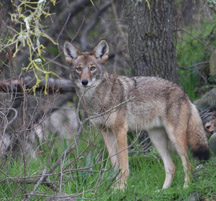 The South Carolina Department of Natural Resources reports that coyote populations in the state have leveled off in the last several years, although when he heard the news, its own board chairman said his farm has "about 10,000," the The Columbia State newspaper and the (Florence) Morning News.
The information was released at a presentation to the natural resources board last week.
The population trend is estimated from the number of coyotes killed in the state each year, the article reports. That number has remained steady for several years. The article notes that the state does not have specific population figures on coyotes.
According to the harvest statistics, coyotes are not spread evenly over the state. Several counties top the others in the total number of coyotes killed and the number of coyotes killed per square mile. Abbeville, Saluda and Cherokee Counties lead the list in coyotes killed per square mile, the Island Packet reports.
The article includes extensive quotes from a university extension agent who refers to the coyotes as "dogs," which really isn't helping anyone.
The Columbia State article in the Island Packet, with lots of interactive statistics.
The Morning News article.
Photo: Coyote by Steve Thompson, courtesy US Fish and Wildlife