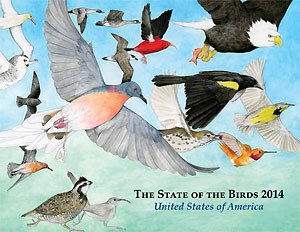 According to a National Audubon Society press release issued last week, more than half of the common bird species in North America are at risk from climate change. The release announced a comprehensive study of North American bird populations based on Audubon's annual Christmas Bird Count and other sources.
"The study identifies 126 species that will lose more than 50 percent of their current ranges – in some cases up to 100 percent – by 2050, with no possibility of moving elsewhere if global warming continues on its current trajectory. A further 188 species face more than 50 percent range loss by 2080 but may be able to make up some of this loss if they are able to colonize new areas. These 314 species include many not previously considered at risk," the release says.
Read the Audubon press release here.
Read Audubon articles and access the report itself, here.
Read The New York Times article on the report here.
Read the USA Today article on the report here.
The very next day the U.S. Committee of the North American Bird Conservation Initiative, a 23-member private/public partnership released its annual State of the Birds report. There, the message was much the same, with a slightly more optimistic frame. The New York Times reports that the State of the Birds says that "nearly one-third of America's birds are in trouble."
Federal agencies play a big role in the State of the Birds report, and this report emphasizes the importance of habitat to bird populations, pointing to specific regions as trouble spots.
"After examining the population trends of birds in desert, sagebrush and chaparral habitats of the West, the report's authors identify aridlands as the habitat with the steepest population declines in the nation. There has been a 46 percent loss of these birds since 1968 in states such as Utah, Arizona and New Mexico," the Initiative press release states.
The State of the Birds also emphasizes success stories, such as the impact of wetland restoration on waterfowl populations.
The 2014 State of the Birds landing page is here. It includes links to the press release, the full report, a watch list and a list of common birds in decline.
Read the very brief New York Times article here.
Read the National Public Radio report here.
The State of the Birds report has been issued since 2009. Audubon played a lead role in putting together the report and publicizing it in 2009, 2010 and 2011. It does not appear that there was a State of the Birds report in 2012. In 2013 the Audubon's CEO issued a statement saying that Congress's inaction on the Farm Bill was harming birds. This year, Audubon issued its own report emphasizing climate change as a threat. Audubon is still a member of the U.S. Committee of the North American Bird Conservation Initiative and its name still appears on the State of the Birds report.