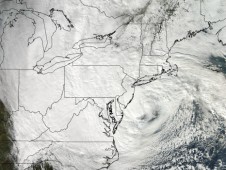 Normally it takes a few weeks after a major natural disaster for the media to turn its attention to the impacts on wildlife. With Hurricane Sandy, some stories have popped up already.
This one is on the impact of hurricanes on shorebirds from National Geographic. (The impact is generally not significant, the article says.) Read the article here.
The survival and movement of one particular non-native species is getting a lot of attention: rats in New York City. The take-away? Many rats likely survived, migrating to the surface from their underground burrows, although young pups probably didn't. Trash and debris on the streets will likely mean plenty of food, but an unprecedented event like Sandy in NYC means no one really knows what will happen.
Read the AFP story on Space Daily, of all places.
In other non-native species news, the Seattle PI reports that all 135 of the Chincoteague ponies, which live on barrier islands in Virginia, made it through the storm. Read the story here.
Nothing, yet, from the hardest hit areas in New Jersey and New York, but that is not a surprise.
Photo: NASA's Aqua satellite captured a visible image Sandy's massive circulation on Oct. 29 at 18:20 UTC (2:20 p.m. EDT). Sandy covers 1.8 million square miles, from the Mid-Atlantic to the Ohio Valley, into Canada and New England. Credit: NASA Goddard MODIS Rapid Response Team