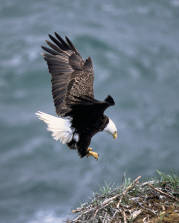 As we reported on the return of snowy owls to the US last week, another part of the story was unfolding. According to news reports, one of the snowies flew into the engine of an airplane and John F. Kennedy Airport in New York City. The Port Authority of New York and New Jersey ordered airport personnel to shoot any other snowy owls on sight. Two of the owls were shot on Dec. 7.
Read the news reports here:Mother Nature Network (most detailed)
Business Insider
NY Daily News
An uproar ensued, with objections lodged by NYC Audubon and Change.org. The owls will now be trapped and moved away from the airport.
Read the update in The New York Times, here
Snowy owls aren't the only raptors gaining attention from their possible deaths this week. Last week the US Fish and Wildlife Service announced new regulations that would extend wind farm's golden and bald eagle take permits for another 30 years. The original permits were for five years. Among the conservation groups protesting the new regulation are the National Audubon Society and the American Bird Conservancy.
Read the Los Angeles Times story on the controversy here.
Read the US Fish and Wildlife Service press release here.
An Associated Press article in the Seattle Times.
Photo: Bald eagle, Dave Menke, USFWS