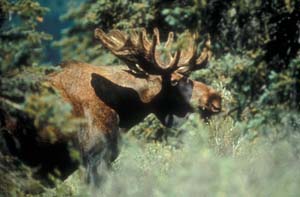 The Wyoming Game and Fish Department and the Wyoming Cooperative Fish and Wildlife Research Unit recently collared 28 cow moose to add to the 65 moose they are already tracking with GPS collars, the Sheridan Press reports.
Twelve of those collars provide real-time data, while the rest will fall off after two years, and will need to be collected so the data can be retrieved, the article says.
The article quotes Wyoming Game and Fish South Jackson Wildlife Biologist Gary Fralick as saying that after the first two years of results, some moose are "very localized," staying in one spot. Other findings include a low birth rate for the moose, and a rump fat level that compares unfavorably to moose in Minnesota, which are in decline.
The rump fat was measured with an ultrasonograph to determine body conditions. The details are still being worked out.