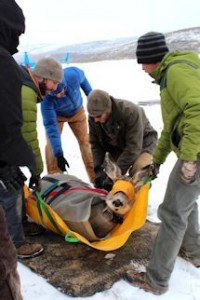 Why are mule deer declining in Western states? So far, that's a mystery. The Wyoming Game & Fish Department reports that the Muley Fanatic Foundation has pledged $1.3 million in an attempt to solve that mystery.
The money will fund an ambitious, five-year research project called the Deer-Elk Ecology Research (D.E.E.R.) project. The department's press release says that the project will use five kinds of high-tech tracking devices, satellite monitoring, laboratory analysis, 170 helicopter enabled animal captures and the dedicated services of a full-time Ph.D candidate and will involve the Muley Fanatic Foundation,the University of Wyoming Cooperative Fish and Wildlife Research Unit, as well as the Wyoming Game and Fish Department.
The research will take place in the greater Little Mountain Area of southwest Wyoming because it is rich in the factors that are suspected in the mule deers decline:  prolonged drought, habitat alteration, predation, and expanding elk populations.
Wyoming Game and Fish Department press release, here.
Link to the Muley Fanatic Foundation, here.
Photo: A completely different mule deer study, but still in Wyoming. This one in the Wyoming Range. Courtesy Wyoming Game and Fish