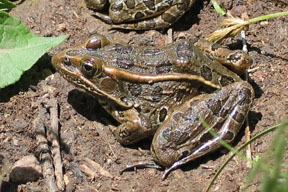 Japanese stiltweed is an invasive grass species that out-competes native species in wetlands, forests and other areas. Recent research at the University of Georgia found that it isn't doing any favors for the American toad either, a post in Entomology Today reports. The paper appeared in the journal Ecology.
The stiltgrass, the researchers found, is wonderful habitat for wolf spiders. As wolf spider numbers increase, they prey on an increasing number of juvenile American toads. The researchers had noticed low toad survival in eight areas in Georgia with invasive stiltgrass and wanted to know why. They were surprised to find an abundance of wolf spiders.
The researchers hypothesize that the stiltgrass allows the spiders, which keep their own populations in check through cannibalism, to hide from each other.
Read all the gory details in the Entomology Today post.
Read all the scientific details in the Ecology paper.
In other amphibian news, National Public Radio recently featured the North American Amphibian Program, a citizen science project that has been tracking calling frogs for 20 years. The news hook seems to be that a citizen science in Virginia recently discovered the presence there of a leopard frog species that had only been identified two years ago in the New York City area.
Photo: Leopard frog. Credit: Shaula Hedwall/USFWS