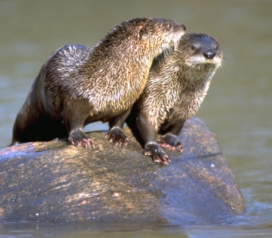 "The [Indiana] Department of Natural Resources is considering allowing a trapping season for river otters less than two decades after being reintroduced to the Hoosier landscape," wrote John Martino, outdoors columnist for the Kokomo Tribune last week. In the article, Martino says the river otters were official declared extirpated from Indiana in 1942.
The state's reintroduction program began in 1995 and included 303 river otters trapped in Louisiana and released in Indiana, the article says. Ten years later river otters were taken off the state endangered species list.
In 2013 the IDNR received more than 64 formal complaints about river otters eating fish from private ponds, Martino reports. The department issued 11 nuisance animal control permits in 2012, he adds. Now, he reports, the department is considering controlling the river otter population by opening a trapping season for river otter in the counties where it is most abundant.
Read the article in the Kokomo Tribune here.
Information on river otter from the Indiana Department of Natural Resources is here. It includes links to several data sets, including a mortality study.
Photo: courtesy Indiana Department of Natural Resources