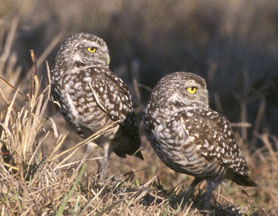 When I saw that The New York Times had published an article on the Global Owl Project, I put that news at the top of my list. A new global effort to study owls that was robust enough to attract the attention of the Gray Lady is something you would want to know about, I thought.
The article itself is more of a round-up of cool owl facts. That's interesting enough, I suppose. But really, it included almost nothing on the Global Owl Project.
Read The New York Times article here.
But what about the Global Owl Project? A glance at its website shows that it has been around for several years. In fact, the site says that the project was supposed to last five years and wrap up in 2008. Six papers on owls were published under its aegis. (Including a recently-uploaded report on how to build artificial burrows for burrowing owls, which looks helpful.)
Get info on the project from its briefing paper (here).
Photo: Burrowing owls by Lee Karney, used courtesy of the US Fish and Wildlife Service