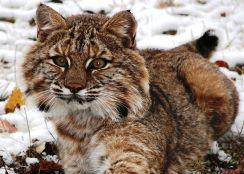 It all began, says the High Country News Goat blog, when a California man found a bobcat trap on his property next to Joshua Tree National Monument. He had not given the trapper permission, so he sought relief from the local police. The police told the man that not only had the trapper not done anything illegal, but he had better give the trap back, or he would be the one doing something illegal, the blog says.
On January 1 a new law in California prohibited the trapping of bobcats in the area adjacent to Joshua Tree went into effect. Bobcat trapping in the area had recently doubled because of demand for bobcat furs in Asia, the blog says.
January 1 also saw the enactment of a new law limiting when and where nuisance mountain lions in the state can be killed.
Read the High Country News Goat blog detailing the new bobcat law, here.
Read a round-up of new California laws, including the bobcat and mountain lion laws, from KQED here.
And read a short item on the mountain lion law in Field & Stream, here.
Photo: Bobcat in New York State, courtesy of NYS Department of Environmental Conservation