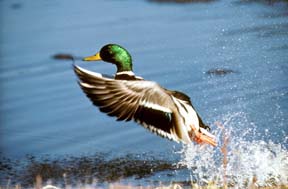 How do I put this nicely? Ducks drop dead every day. So do geese, grebes and other waterfowl. Several diseases, such as avian cholera, are capable of sweeping through large flocks, leaving many bodies behind. Most stories about waterfowl deaths end in the cause being something quite natural, if unpleasant for the neighbors.
That's why this story out of Ohio is odd. About 50 mallards, domestic cross-breeds and Canada geese were poisoned in an urban area. Little blue pellets of poison were found. No suspects yet.
The NBC4i story has more details.
The WCBE story gets right to the point.
Photo: A healthy mallard duck drake, no where near Columbus, Ohio. Photo by Erwin and Peggy Bauer, courtesy USFWS