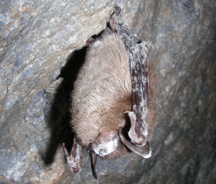 As the second state struck by white nose syndrome in bats, good news for Vermont's bats is good news for all hibernating bats in North America. An Associated Press story reports that scientists are interpreting results of a winter-long study of bat movements in New England's largest bat hibernation site as showing a sharp reduction in the number of bats felled by white nose syndrome.
The scientists tagged over 400 bats, and found that only eight left their hibernation cave early. Only 192 bats left the cave at their normal time, but the scientists say they think those other 200 or so bats hibernated in another cave, as opposed to dieing somewhere deep in the cave out of reach of their tracking antenna.
Read the whole Associated Press story here.
Scroll down for some background on the study and other interesting white nose syndrome info, here.
Photo: Little brown bat with white nose syndrome. Courtesy of Missouri Dept. of Conservation