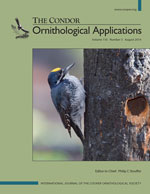 In honor of two major reports on bird conservation released last week, it is going to be bird week here at State Wildlife Research News. First, the science journals. If the State of the Birds has you wondering what and where your state can be doing bird conservation better, the latest issue of The Condor has some answers for you.
Some highlights:
Development, such as farms and the building of transmission lines, in the sagebrush ecosystem favors raven populations over sagebrush specialists, such as ferruginous hawks. Landscape alterations influence differential habitat use of nesting buteos and ravens within sagebrush ecosystem: Implications for transmission line development
Radar analysis has revealed several important fall migratory stop-over sites for birds in the northeastern United States, including coastlines of Long Island Sound, throughout the Delmarva Peninsula, in areas surrounding Baltimore and Washington, along the western edge of the Adirondack Mountains, and within the Appalachian Mountains of southwestern Virginia and West Virginia. Radar analysis of fall bird migration stopover sites in the northeastern U.S.
In grasslands, getting rid of trees helps populations of savannah sparrows and sedge wrens much more than improving the quality of the grasslands does. A multiscale assessment of tree avoidance by prairie birds
This issue of the Condor is particularly rich in papers relevant to bird conservation in North America. Check out the table of contents here.
In the Wilson Journal of Ornithology:
Analysis of thousands of eared grebes that died on the Great Salt Lake in December 2011 found that the downed birds had elevated levels of mercury and selenium compared to the eared grebes that migrated through the area without incident. Factors Influencing Mortality of Eared Grebes (Podiceps nigricollis) during a Mass Downing
And No Sex Bias in Wood Thrushes (Hylocichla mustelina) Captured by Using Audio Playback during the Non-breeding Season